AK-Models has been in Laser Cutting business for over 18 years, specializing in Laser Cutting services in Model Airplanes industry. We have helped large and small companies to achieve their goals for high quality products at most competitive prices in the industry. AK-Models started out as a small manufacturer of our own RC Jets designs and other RC aerobatic model airplanes kits. Since then many things have changed and now were one of the most recognized Laser Cutting providers in model aviation community. We are here to stay and to provide you with quality services at unbeatable prices. Our fast turn around time is also unmatched by our competitors, normally orders ship in 48 hours or less.
To provided you with absolutely best laser cutting quality possible AK-Models uses true state of the art KERN Laser System and Universal Laser System for laser-Cutting and engraving services.
AKM uses AutoCAD release 2002 and AutoCAD 2005 as our primary platform for Laser Cutting. For AutoCad users please send dwg. or dxf. files witch are AutoCad 2002 compatible.
We also can cut and engrave your work from Corel draw files, we use Corel Draw 12.
FREE QUOTES: We will provide fast and very accurate quotes on all jobs. We ask that you send as finalized files that meet all of our requirements outlined on this page.
Make all LASER CUT LINES RED and all

MARKING GREEN

(if you choose to have it)
Use Txt Fonts to mark parts, text can be of any size. Do not use filled or double line fonts.

Check that ALL PARTS

, lightning holes, slots etc. have brake tabs to hold them in their wood sheets.

NO PARTS SHOULD FALL OUT.

When cutting air pressure will blow smaller parts off, so have enough tabs to hold them in sheets. For Plywood use 0.5mm tabs and balsa 1-2mm. Make brake tabs so that they go along with the wood grain, this will make it easier to remove parts from the sheets. Best way to make brake tabs in AutoCAD is to use Multiline set accordingly to 1 or 2mm, and use it to trim the parts.
All parts must be laid-out in 12", 24", 36" or 48" long and 3",4", 6" wide for balsa and up to 12" wide for plywood. Rectangles need to represent the raw balsa wood or plywood sheets and should be done in WHITE line. Please click image below for sample view.
NOTE - We currently only have Balsa up to 3x36" and Basswood up to 4x48".
LEAVE 1/8" between part and sheet's edges. THIS IS A MUST! Just of-set wood sheets edges and use it for references.
Keep all parts for each design on 1 file, but they must be sorted in their respective materials and include sheets size quantities and wood type next to each sheet.

Use 1" letters to show wood type and quantities for each sheet.

Send us file that represents 1 kit only, will multiply parts for you to fill your order.
Remove all un-necessary line types, text styles and fonts.
Have your name, product description and contact information in the files.

YOU FILES ARE TREATED AS "CONFIDENTIAL" AND WILL NEVER BE SHARED OR USED FOR OTHER PURPOSES.
SEND ALL FILES TO:
akmodelsinc@gmail.com
Below is an example of proper file format and set-up.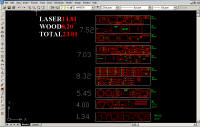 Balsa Wood and Plywood sizes and options.
We have all Wood Sizes available for Laser Cutting, our balsa shop is capable of providing any sizes of balsa wood and plywood needed for any specific order. Most readily available sizes are show below:
Balsa Wood: 1/16, 3/32, 1/8, 3/16, 1/4, 3/8 all available in 3", 4" and 6" wide and up to 48" in length. We sort our balsa to hard, medium and soft witch you can specify, if not specified we'll cut from medium by default.
Birch Aircraft Plywood:1/64, 1/32, 1/16, 3/32, 1/8 - 3 ply, 1/8 - 5 ply, 3/16 Birch, 1/4 Lite and Birch all in 24,36 and 48 long
Lite plywood available only in1/8 and 1/4 sheets sizes up to 24"x48". Plywood can be cut to 3", 4" ,6", 8",12" up to 24" wide sheets.
GUIDELINES FOR DESIGN OF LASER CUT DEPRON SHEET KITS
1. Depron USA provides quality 3mm and 6mm (white and grey) Depron sheets at a reasonable price.
2. AK Models provides a 0.040" wide cut for 3mm and 6mm Depron sheets.
3. There are 25.4mm to the inch. 3mm Depron is 0.118" thick and 6mm is 0.236" thick.
4. Example of factoring for a 0.040" cut width with a tab / slot:
4.1 Using 3mm Depron (0.118"), the slot width needs to be 0.078" wide. Using 6mm Depron (0.236"), the slot width needs to be 0.196" wide.
4.2 For a 0.250" slot length, the length needs to be 0.210" long.
4.3 For a 0.250" tab length, the length needs to be 0.290" long.
5. Maintain a 0.25" distance from the 13" x 39" drawing border on CAD for all parts. Use a 0.10" do-not-cut space on lines to be cut to retain part in
sheet. Parts around the perimeter--near the 13" x 39" border should have the 0.10" lines a little closer than those in the center. Perimeter parts
tend to receive more stress in handling and need more 0.10" lines to retain part in sheet.
6. Set up CAD drawing for a black background as this provides the greatest contrast for the colors to be used. Use the thinnest red line for parts to
be cut. Use the thinnest white line for the 13" x 39" border.
7. Submit drawing to AKM as a dxf file.
8. Have Depron drop-shipped to AKM. Laser-cut parts will be returned in same shipping box.
9. Mix kit parts with white and grey laser-cuts for optimum contrast, looks, orientation and visibility.
10. Small holes (0.10" diameter and smaller) may be filled in with the red color, leaving no cutout.
11. Check entire drawing for stacked (double) lines. Basically erase each line, refresh, and see if another line is there, then restore the desired line
only.
Inside Look at AK-Models.
We have dedicated staff to insure fastest turn around time possible, normally we only need 48 hours to complete any size order.
Our own balsa wood shop is capable of delivering any balsa wood needed for any job in short notice.
We have dedicated 30' x 40' shop for Balsa and Plywood Laser Cutting.
Contact Information
Address: AK-Models Inc.
3305 HWY 1 SW
Iowa City, IA 52240
E-mail: akmodelsinc@gmail.com
Telephone: (319) 855-4029 (9am -2pm Central Time) or Leave a message.
© Copyright Protected All Rights Reserved 2000-20019